One of the rather odd units available to France in LGDR is the Triple-Barrelled Artillery Battery. The rules describe them as having "3 barrels mounted on a single carriage. This makes them more effective when firing roundshot, but slower to load. They are light cannon (necessary due to having 3 barrels on one carriage, set in a triangular arrangement). At close battle ranges where grapeshot is used, there is no great advantage to them."

Knowing next to nothing about artillery, I couldn't get a picture in my head, but found one here: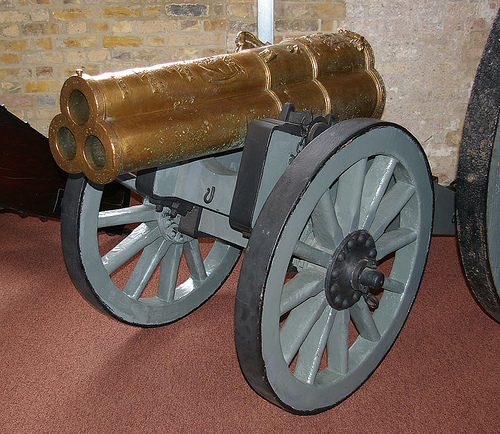 The picture is of a canon in the Royal Artillery Museum in London.

It was one of 50 ordered by Louis XIV in 1704, and thought to have been captured at the battle of Malplaquet in 1709. Its calibre is five and a half pounds and was designed by a Venetian Augustinian friar who was a Master of Theology and a self-styled 'Master of Military Arts'. He may have had the idea from Leonardo who invented a triple-barrelled canon which had 3 barrels, was mounted on a triangular height-adjustable carriage which looks more like a medieval ballista. Leonardo's invention also fired all 3 balls at once.

The 1704 design seems to have been abandoned so it either wasn't a great success for the reasons stated in the rules or was superseded by other single-barrelled guns. I was surprised just how small it is (about 3 feet high), so appears more like a battalion gun than a piece of field artillery. In the rules, the maximum calliber of battalion guns or galloper guns is 4pdr, whereas field guns are 8-12pdr.

Given how it was used, I can see it of being more benefit as a kind of battalion gun firing roundshot. I don't know if anyone has ever used one in the game as either a field piece or as a substitute battalion gun, whether drill improves the rate of fire or if being a small calliber means they need regular cleaning (as battalion guns do). If the crew numbers are correct then I estimate each gun would need a crew of 10 plus 2 officers, which seems extraordinary for such a small gun. Perhaps someone who knows something about artillery can enlighten me?